Pepper Jay, the most beautiful hard-working retired post-middle-aged music producer, speaker, panelist, author, actress (SAG-AFTRA / EQUITY), Bubby, rancher, woman with white hair that you've ever met in your entire life who looks forward to sharing with you.
Born in 1949 and lived several lifetimes.  Grandmother was Pepper Jay's best friend and her best friend was Sophie Tucker ("The Last of the Red Hot Mamas"). She literally spent her childhood and early teens in the Moulin Rouge, Coconut Grove, Brown Derby, and in Vegas casino showrooms watching the Rat Pack and other entertainers of the time.
Growing up in Hollywood, Pepper Jay began my performance career at age 5, performing in local theatre and TV sitcoms, and tap dancing and performing skits for charity events and fund-raisers. Entertainment has always been part of her life.
After graduating from San Diego State University, Pepper Jay obtained a lifetime teaching credential from the State of California and for a decade enjoyed teaching for LA Unified public schools and counseling students and coordinating and producing shows by the 100+ member drill team.
The highlight was interacting with the students and traveling on a regular basis to meet and speak to students in 3 school districts about the power of dynamic communication.
After graduating with a juris doctorate from the University of San Diego School of Law, practiced as a litigation attorney for 32 years.
In 1991, Pepper Jay formalized her entertainment company, Pepper Jay Productions LLC ("PJP") with her singer songwriter partner, John Michael Ferrari.    PJP produces music music.  PJP also produced and published the Actors Podcast Network, consisting of 15+ informative and entertaining shows on three channels: Actors Reporter, Actors Entertainment, and Actors Radio.
From 1993 through 2008, Pepper Jay created and hosted the Working Actors Group, offering scene study, on-camera and auditioning techniques, including cold reading workshops, to working union actors.
Today, Pepper Jay continues to produce music which has hit the top of several radio charts with rave reviews (Pls see: https://johnmichaelferrari.com/kudos/), continues with a few private performance coaching clients. She also enjoys leading performance workshops for lawyers, teachers, business people, actors, singers, public speakers, etc. Even an 8th grader afraid to give a book report in front of his class can find relief in learning performance skills. The key is "audience psychology!"
Five of Pepper Jay's favorite things at 70+:
1. Spend time with grand-children.
2. Spend time with animals.
3. Produce music with production partner, John Michael Ferrari.
4. Make people's lives easier through Dynamic Performance Skills.
5. Volunteer as she continues as an Ambassador for the Art 4 Peace Awards organization and
6. Sitting on the Board of the U.S.S. Emmons Association (https://www.ussemmons.org/).
Proud and humbled to received Outstanding Music Producer of the Year 2021 by Producers Choice Honors,  to be the recipient of the Diamond Rose Award in Entertainment by the Multicultural Motion Picture Association, the Braveheart Lifetime Achievement Award by Art 4 Peace, and commended by the City of Los Angles and City of Beverly Hills, California.
In 2020, Pepper Jay was voted Heartpreneur of the Year in recognition and gratitude for diligence and commitment to business ad leadershIp while make a difference in my community.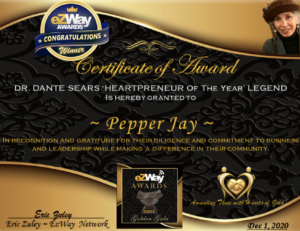 Pepper Jay appreciates being.